Azure FinOps: Improve the ROI on your Cloud Spend with Cost Optimization & Governance
CloudMonitor monitors your cloud consumption costs and looks for cost-saving opportunities so you only pay for what you need. CloudMonitor finds oversized resources and services that are no longer in use and suggests best practices based on real-time utilization patterns. It implements the FinOps lifecycle framework for improved cost visibility, cost allocation, and chargebacks.
Take Control of your Cloud Costs
CloudMonitor works 24x7 to optimize, reduce and manage your cloud costs automatically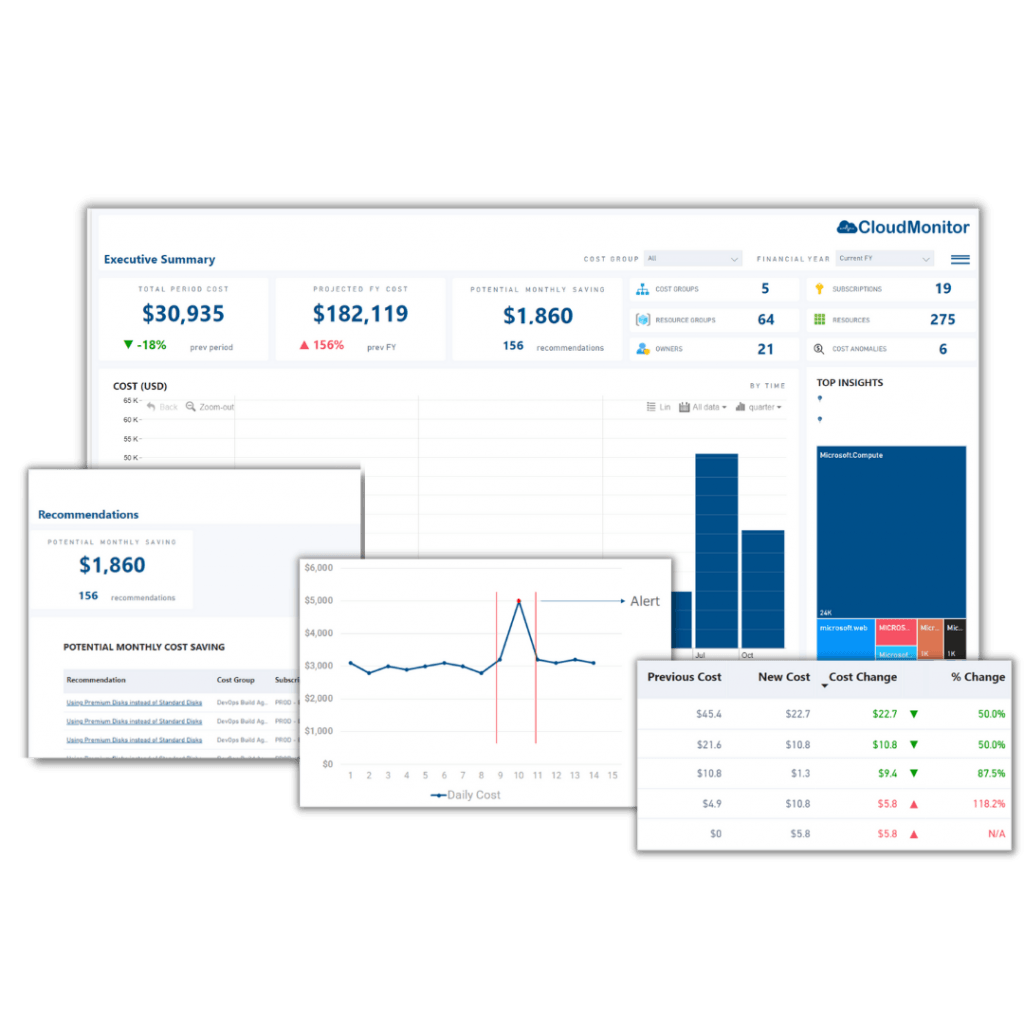 "Our CloudSource product allows us to manage our customer's cloud estates and provide them with actionable insights or even implement recommendations for them, depending on the CloudSource product they have purchased. White labelling CloudMonitor brings a layer of professional reporting to CloudSource and quickly highlights issues with Security, Cost and Governance."
How can Automated FinOps Help your Company?
CloudMonitor allows companies to reduce their cloud consumption costs while setting up an effective and automated governance process with real-time cost controls to manage their cloud resources more efficiently.
Gain Visibility of your Cloud Expenses
Understand your cloud spend in digestible, self-service dashboards
Optimize your Cloud Consumption Costs
Quickly identify cost saving opportunities
Improve Cloud Governance and Security
Monitor your environment for potential bill-shock real-time
Establish Cloud Ownership & Accountability
Educate your team to understand cost implications
Ready to take control of your cloud expenditure?
Why is Effective Cost Governance so Difficult?
There are many reasons why cloud costs are usually the number 1 concern in a company, from quick growth, big data storage, lack of processes, multiple teams using the same resources, to complex pricing and reporting. 
CloudMonitor mitigates these issues by providing automated cost management and cost controls in real-time, 24×7 so you can sleep at night knowing that your costs are as low as they possibly can be!
CloudMonitor helps solve these common problems: